The Long Thread's blog is helping us keep to our overall theme of simple projects that are quick and wonderful! Be sure to check out their blog.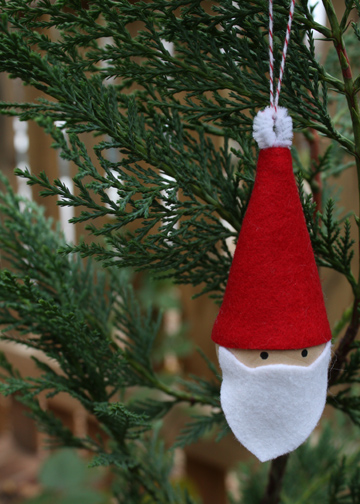 Ten minutes. Really. This is sort of a variation on the elf skittles that I posted about last week. But even easier. I think these would make cute additions to gifts for family, friends or teachers. The kids can help make these if you skip the glue gun and use regular school glue. You could sign them on the back and add the year. You could use even smaller wooden balls to make teeny tiny Santas. Or you can take it a step further and make a little body with chenille stems, a larger ball for the belly and beads for the arms and legs.
Supplies:
wooden ball (1 1/2″ diameter)
red and white felt scraps
black acrylic paint
white chenille stem (cut to 2″)
twine
glue gun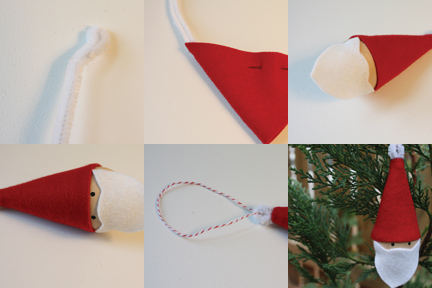 Cut out the hat and beard from felt according to this template.
Bend the end of your chenille stem and cut to 2″.
Insert the chenille stem in the top of the hat felt and sew, right sides together, using a scant 1/4″ seam allowance. Turn right sides out and poke out the tip with a blunt tool.
Place a couple of drops of glue on the inside rim of the hat and fit onto the wooden ball. Glue the beard on as well, just meeting the hat at the corners.
Draw eyes with a pencil and then paint them on with black acrylic paint.
Loop twine through the chenille stem and tie in a knot. Trim off the ends and put a tiny drop of glue to hold the knot in place just at the chenille stem. All done!