We are taking a brief hiatus from ornament DIYs today to show you a great project from Studio DIY's blog! Be sure to check them out. These lunch bags would be great for a pick me up during a long school day!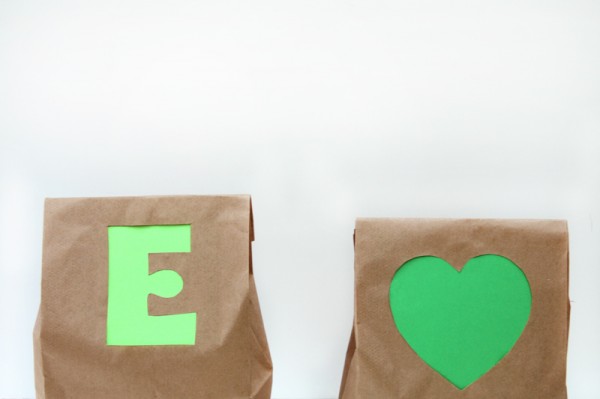 Supply List:
Brown Paper Lunch Bags
Letter or Shape Templates (Print out large letters from your computer, or free hand it!)
Pencil
Scissors (x-acto knife helps too!)
Colored Card stock
Tape and/or Glue
To Make:
Trace your shape onto your lunch bag. Make sure to leave enough room at the top so you can fold the bag over (I'd do mine even lower next time).
Cut out your shape, I did this with an x-acto and put a small cutting board inside the bag to prevent cutting through both sides. You could easily do this with scissors too. Then cut a rectangle of colored paper, just big enough to cover your entire cut out.
Tape and/or glue your paper inside the bag behind your cut out. I taped mine first, then added glue (you can do this with a tooth pick or small glue stick) to seal down the loose edges.